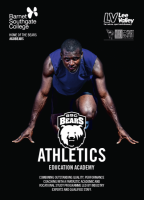 "We aim to produce success both on and off the track"
The BSC Athletics Education Academy programme caters for athletes both male and females.
You will study at Barnet and Southgate College, on one of our excellent full-time courses and can access elite training sessions with our highly experienced athletic coaches, with your programme designed to dovetail and be an integral component of your study programme
Our scholarship system will see you study a bespoke course package with the following athletics training programme fully funded and at no cost to the athlete:
• Event specific coaching with International Athletes
• Strength and Conditioning
• Physio-therapy and soft tissue treatment
• Nutritional strategies
• Mindset workshops
• Transport to and from training
• Membership to the Lee Valley Athletics Centre
Packages
Elite - athletes that are competing at national or international level. These athletes have all services available to them.
Development - club athletes looking at competing at national level. Services available include therapy once a week, 2-3 track sessions and 1-2 strength and conditioning sessions a week.
Potential - These are our athletes that have experienced athletics and are looking to compete however we are also open to new athletes that show willingness and potential. These athletes have available 2-4 training sessions a week to incorporate both track and strengths and conditioning training as well as therapy when required.
All programmes have been designed to complement and enhance your training. If you already have a coach, our coaching team aim to build a positive working relationship with your coach so we can work together to help you can maximise your potential and reach your athletic goals.
The scheme is also open and welcomes disabled athletes, with full accessibility and expert training available.
Academically you can expect:
A range of courses available including BTEC Level 1 to 3 and Level 3 Extended Diploma in Sport, A-Level pathways or Sport NVQ Level 2's in Coaching and YMCA's in Personal Training. Sports courses preferred.
Options of other additional courses including; Athletic Coaching & Officiating Awards (Level 1), Athletics Coach Award (level1 ), Award in Sports Leadership in the Community and other vocational awards
Compulsory completion of Functional Skills/G.C.S.E in English and Maths
Access to fully qualified physiotherapists / sports therapists at the college
Regular free use of gym facilities at the College
Practical days will take place throughtout the year. If you are interested in attending or have any questions about the scheme, please email sportstrials@barnetsouthgate.ac.uk or telephone on 020 3764 4479
Browse all our full time sports courses
Sports Department
Barnet and Southgate College
Southgate Campus
High Street
London N14 6BS