Baroness (Tanni) Grey-Thompson DBE who is also a former Olympic Paralympian, was given a tour of the state-of-the-art facilities and also met with LLDD (Learners with Learning Disabilities) students currently using the purpose-built centre.
Baroness Grey-Thompson launched proceedings at the Southgate campus of the College by giving a speech and drawing back the curtain to reveal the plaque to open the new LLDD Centre.
It's the first facility of its type in the area, and one of the best in London, providing specialist education facilities which are totally dedicated to the specific needs of students with learning difficulties. The challenges that these students face throughout their lives are complex and the new centre allows them to learn in a safe environment entirely tailored to their needs. The inspirational building and facilities helps them develop vital communication, independent living and work skills to equip them with the best chance of being economically active and building a life in their local communities. The new centre facilities include: a hydrotherapy pool, sensory room, a range of specialist classrooms, sports hall, catering café, drama room, training flat, sensory and recreational garden.
Baroness Grey-Thompson DBE said: "I am delighted to see Barnet and Southgate College leading the way in education provision for students with disabilities. So much thought has gone into the new centre, the development is inspiring and inclusive and even life-changing, offering amazing support to the students to help them lead independent, active lives. I believe that every student there will have the opportunity to fulfil their potential."
Barnet and Southgate College Principal David Byrne said:"The new learning disabilities centre of excellence at the Southgate Campus is one of the best in London with dedicated, state-of-the-art specialist facilities that will serve our surrounding communities. This will enable students with learning difficulties such as autism and other complex support needs to be able to come and learn academic and employment skills within a supportive and inspirational building."
In 1988 Tanni first represented Great Britain and won her first Paralympic medal, the 400m bronze. Then in 1992 Barcelona Paralympics, she stormed to victory taking four gold medals and a silver. The same year, she won her first of six London Wheelchair Marathons. Tanni also won the 800 metres gold in the 1996 Atlanta Paralympics along with three silver medals. At the 2000 Sydney Paralympics, 31 year old Tanni returned with a vengeance, striking gold a fabulous four times in the 100, 200, 400 and 800 metres. In Athens 2004, aged 35, she takes first place in the 100 and 400 metres bringing her Paralympic gold medal tally to an astonishing eleven. In fact, her total Paralympic Medal tally is an impressive: 11 gold, 4 silvers and 1 bronze.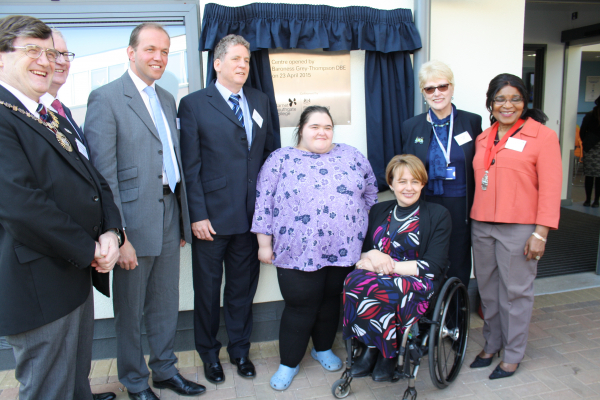 Pictured above left to right: Mayor of Barnet, Hugh Rayner, David Byrne (Principal), David Burrowes MP, Charles Nelson (Head of Supported Learning), Jaya Melvin-Gibbons (LLDD student), Baroness Grey-Thompson, Ann Zinkin (College Governor) and Patricia Ekechi, Deputy Mayor of Enfield. Click here to see more photographs from the opening of the LLDD Centre.