Colindale Campus
Barnet and Southgate College
7 Bristol Avenue (formerly Lanacre Avenue)
London NW9 4BR
The site is a relocation of the former Grahame Park Campus, on Grahame Park Way, to Bristol Avenue and is a short 5 minute walk from Colindale tube station. The accessible, urban location of the new campus and its close proximity to Underground and bus links ensure an improved experience for college students and the local community.
It forms part of a £550 million urban master plan to regenerate the wider Grahame Park area.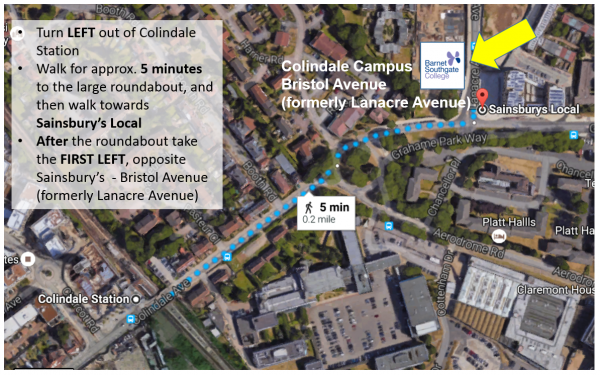 The modern facility brings education and training closer to the local community. This includes the Construction Technology Centre for the College's brickwork, carpentry & joinery, plastering, wall & floor tiling and plumbing courses. The Centre offers access to cutting edge facilities in line with industry advancements and supports skills development and progression through to higher level qualifications. The Centre also includes the Wella Centre of Excellence, a training hair salon open to the public to feature the College's hairdressing and barbering courses, and the Beauty Skills Centre.
Additional community services at the new campus include a new London Borough of Barnet Public Library and a new community services area for the Barnet Centre for Independent Living (B-CIL). B-CIL is a hub centre to provide support and advice for people with disabilities in respect of a range of matters such as advocacy matters, life skills, computer skills and employment. It is a centre run largely by people with disabilities for people with disabilities.
The new campus ensures contemporary educational facilities within a new flexible purpose-built building that showcases education and offers the College a new identity in the local area.